Well hello again! It's been an exciting week on Dribbble with the addition of the much-anticipated and requested retina @2x shots, coined "Double Dribbble!" It's been awesome to see the retina shots roll in, especially on my retina MacBook Pro, makes such a huge difference when browsing Dribbble!
So in honor of this historic occasion, this weeks Postgame will be all retina! So sit back, relax and get ready for some awesome shots coming at you in HiDPI!
iPhone 5 Headphones
First up is an amazing shot of the new iPhone 5 Headphones by JustD. If you've seen these in real life or on Apple's website you know how stylish these glossy reflective buds look, and this shot captures them in all their glory, case included.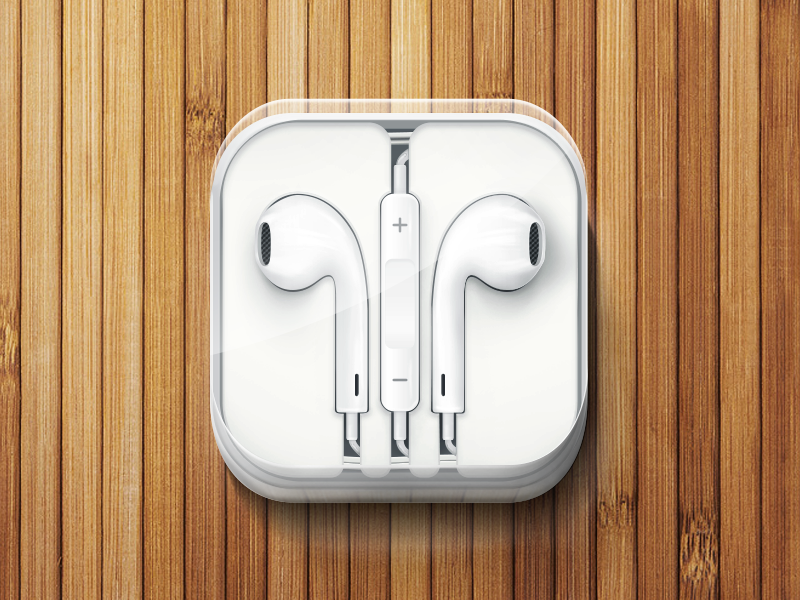 What I loved
This shot is just stunning and captures these little guys so well. All of the highlights are so well done, from the large gloss on the case to the multiple reflective highlights on the ear buds. No detail was overlooked in this retina shot, even down to the mesh inside the ear buds. The shading on the ear buds is done really well, the volume control has a similarly stunning finish. The cutout in the volume control looks spot on and really natural. There is a small dark line that traces around all the components that is the contact shadow with where the buds and volume control lie in the case, but this also serves a dual purpose of helping to separate the white earbuds from the white case they are in.
My Critique
The only critique I have about this shot is that it looks like the wood is reflecting the case a bit. It looks like there is a very faint white shape around the bottom of the earbud's case. However the wood looks to be unfinished so it wouldn't be reflective.
Education Icons 2
Next up are these great icons titled Education Icons 2 by Pixotico.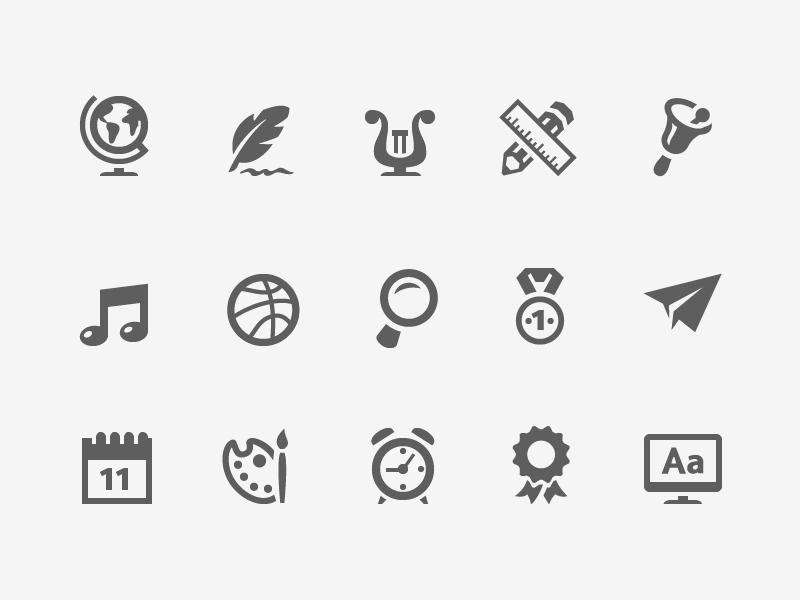 What I loved
These icons have so much style to them. These types of icon shots are pretty common on Dribbble but these stood out to me because of the vide they have. The line size varies so much between the icons, and even within each icon, but they still manage to feel consistent and part of the same set. I particularly like the harp, alarm clock, award, and feather pen. These 4 icons have the most variation within them, making them really compelling to look at. The harp has a nice bold curvy shape with hard lines inside it, providing a nice juxtaposition. This is true of the alarm clock too, with its nice bold circle face containing smaller circles and line hands, then interesting bits and bobs around it for the alarm bells and legs. I really like the ribbons coming off of the award and the cutout separation between them and the award body. The feather pen has a lot of character and the squiggle line underneath really helps to fill out the space in the icon.
My Critique
Although I do like all the icons I think that the musical note could be a little more interesting. It just feels a little flat compared to the others. Maybe if there were some sheet music lines around it? I am also not to fond of the offset ridges on the calendar. I can't tell why these are offset instead of being centered. I'm guessing they are this way because of some reference material but I think it would be better to center them and avoid confusion.
Tweet Sheet
This next shot is a really clean take on a tweet popup, complete with attachment. The shot is called Tweet Sheet by Ryan Henricus from Sydney, Australia.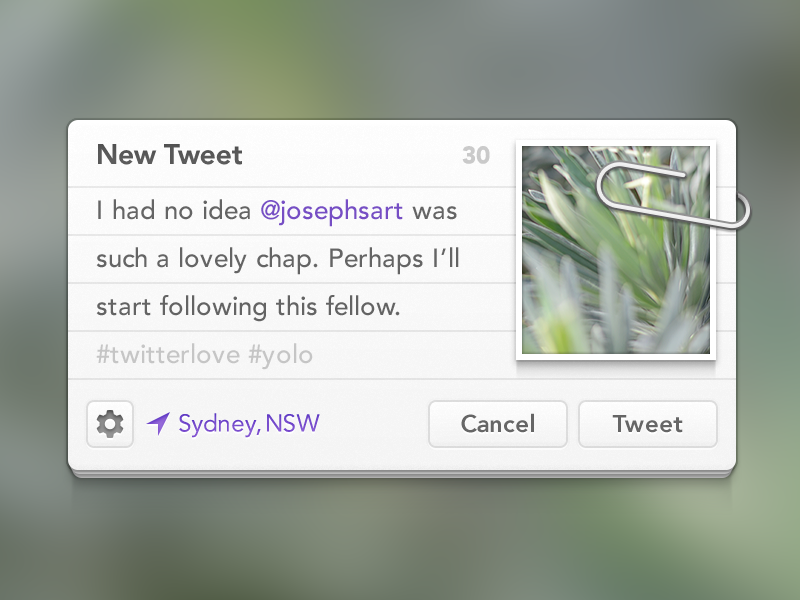 What I loved
If you use iOS or the Mac the style of this dialog will be familiar, it's used for Twitter and now also Facebook on both platforms. Even with that this take on the dialog really stood out to me because of how clean it is and that purple just jumps out at you! We are so used to seeing blue links that this subtile change really stands out and reminds us that there are more colors than just blue at our disposal :) In addition to the purple I also like how the hash tags are styled with the very dim grey. It is quite dim and some users might have trouble reading it but from a clean aesthetics standpoint I think it fits nicely.
The stacked paper also looks great, I love this treatment combined with lined paper, it gives it such a tactile feel. The font chosen, and its size, is nice and contributes to the clean feel.
My Critique
I am not crazy about the straight down shadows being cast from the dialog and from the picture. I like that Ryan tried something different from just an even shadow, or the shadowing that makes the edges of a view look curled. But I think that the hard lines on the sides of the shadow are too extreme and look like they were clipped off.
Darth Vader
Last up is a great illustration by David Cran titled Darth Vader from Vancouver.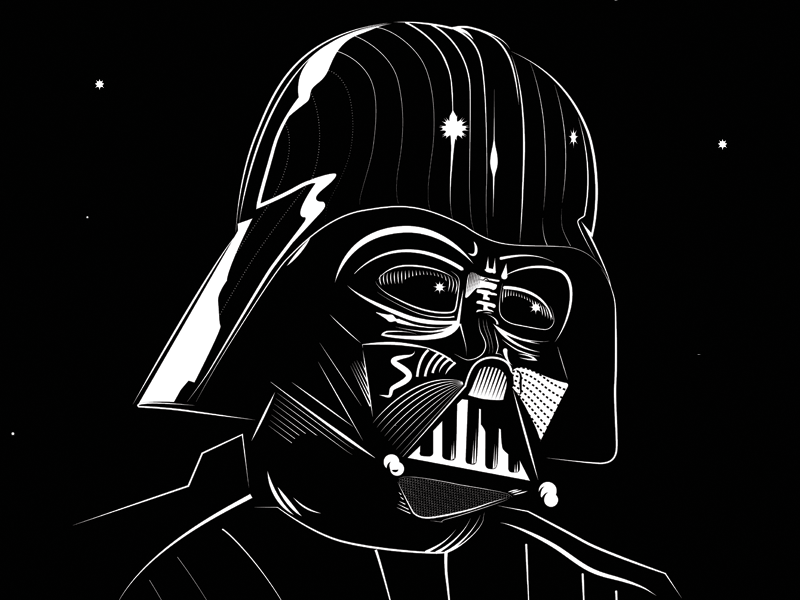 I am a huge Star Wars fan, ever since I was little, and love anything that's an artistic take on these beloved characters and stories. This shot is simple from a color standpoint but the line work more than makes up for it. I love all the different types of lines used in this piece. There are small lines, large squiggles, and harsh polygonal lines, it's got 'em all! Even between similar parts there is great variety. His cheeks are a great example of this, on the left the cheeks have a couple thick hash lines and a squiggle, but on the right a warped dot pattern is used. Even with these drastic differences the whole piece is cohesive and inspiring.
This shot reminds me of The Vadar Project art show. If you haven't seen it before, be sure to check it out.
---
Well that's it for this week, I hope you enjoyed my picks! Let me know what you think in the comments and as always, if you come across a shot that you think should be featured, let us know!
Stay @2x my friends,
Dave