Well I'm back for the hat trick. That's right, lucky Postgame number 3! As always it was a great week on Dribbble, lots of amazing work coming out of the woodwork. So naturally, it was pretty hard narrowing down the picks in my Industry bucket to just 4 shots.
Lets jump right into what you came here for!
Icon retro music box
First up is an amazingly detailed iOS icon titled Icon retro music box by Alex Martinov from, you guessed it, Russia (damn they make great designers over there)!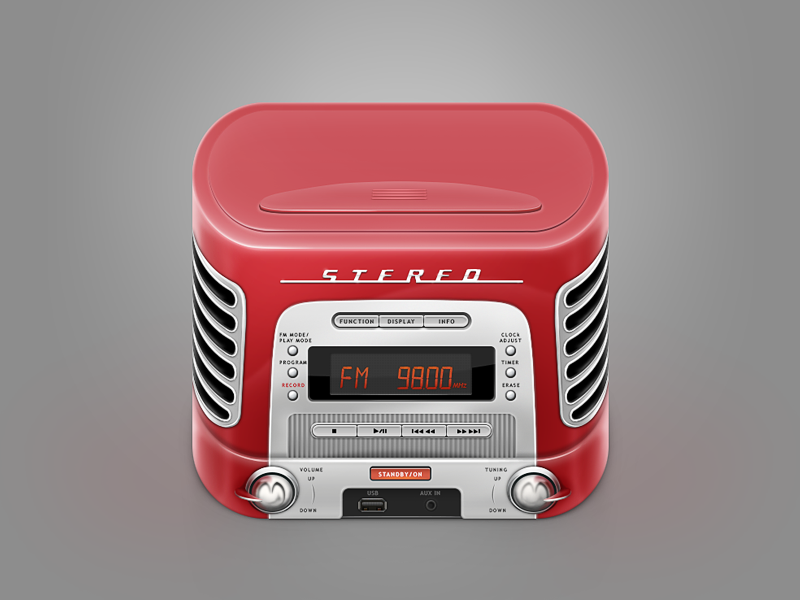 What I loved
The detail in this icon is stunning! The highlights and shading is phenomenal from the nice wide highlights on the red plastic to the tight metallic highlights on the knobs and grills.
This shot is sure to catch anyones eye as they browse the App Store. I love how he has included all of the labels and buttons that you would expect to find on a stereo, play buttons, adjusting the clock, even down to a USB and AUX plugs.
I love the styling of the "logo", it just says stereo but when you just glance at it you see the retro 50′s styling and it just works. It's only after a little while do you realize it just says stereo :) It's kinda got that Hollywood movie fake company name vibe going for it and I think that helps. I get a very nostalgic feeling looking at this, nostalgia for 50′s themed movies and diners.
My Critique
The top portion of this icon is not as detailed as the rest. All of the detail is squished into the bottom two-thirds. I know this is a constraint of designing within the rounded corners of an iOS icon but I think making the top a little smaller or adding some other detail besides the button on the top might help.
Another nitpicked critique is that the nobs on the right and left don't match. The right one feels softer, the shadowing is not as harsh as on the left. I think I light the treatment of the left one better, feels more metallic.
Dribbble Wallet PSD & Process
Next up is an unbelievable rebound called Dribbble Wallet PSD & Process by Anton Badashov from Bryansk. This shot is a rebound of his own shot that has received almost 700 likes, and rightfully so! Anton was kind enough to show the process of creating this amazing wallet and even uploaded a PSD of the finished result, be sure to check it out. There is a lot of amazing Photoshop foo in there!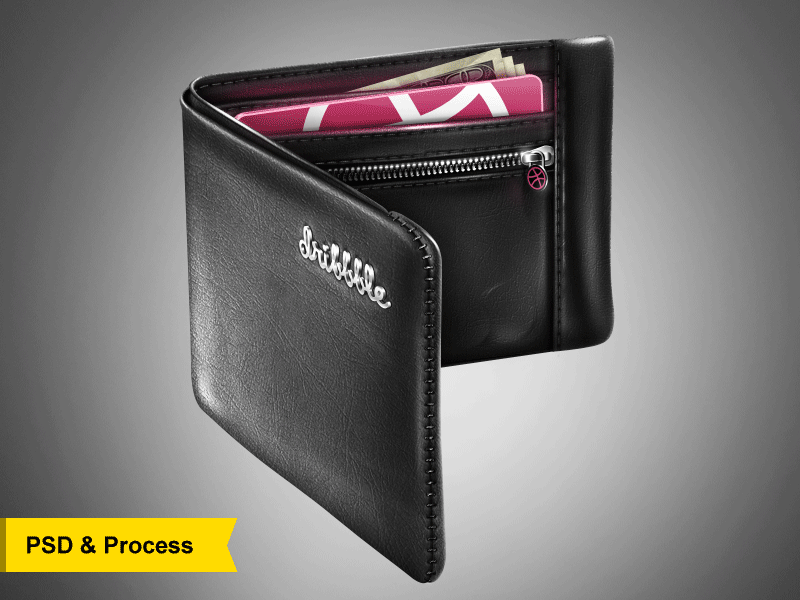 What I loved
There is so much detail in this shot! When I first saw the original shot I was convinced it was 3D. All of the shading is spectacular, the metal looks great, and the stitching really takes it to a whole 'nother level.
I love the Dribbble theme and how the logo is used as the metal label on the outside of the wallet, the zipper and card are also great and really fun. The pink glow from the Dribbble card onto the leather is really nice. It helps add some color to the piece and also gives the leather a really nice sense of being really polished.
The texture work on this piece is really what makes it. It's awesome to be able to dig into the PSD and look at how Anton has used images to add realism to a base layer of shapes, gradients, shadows, and highlights.
One particular part of this shot that I love, and didn't notice at first, is the impressions of coins in the coin section of the wallet. There are two coins protruding right under the Dribbble zipper. This is such a nice and fun touch that really helps this piece stand out as a poster child of detail!
My Critique
The only thing I would say I'm think could be better is the front stitching. The texturing and shading looks great but the stitches feel too far apart to me and thus don't match the leather working craftsmanship of the rest of the wallet.
Weather Winter
Designers love weather apps, and there are a lot of beautiful ones on Dribbble. This one in particular called Weather Winter by Webshocker from Slovenia stood out to me because of the custom screen stylings for each condition.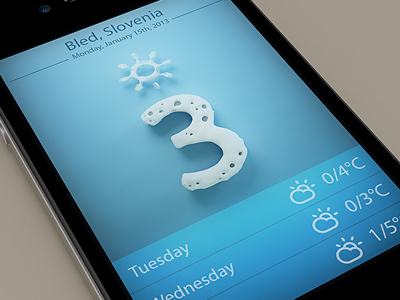 What I loved
Webshocker has posted a few others for seasons like spring and summer. This winter shot in particular is my favorite of the series so far because I love winter and love the cool blues used in this shot. Also the melted ice number and snowflake are visually really interesting.
What I love about this concept for a weather app is that the entire screen informs the viewer about the condition. You could be 20 feet away from the iPhone and still have a general idea of what the weather is going to be like. Then when you look at the screen up close you see all the details, all the nooks and crannies that have been added to the ice.
The text and info graphics are also very nice and match quite well. The clean simple and slender font matches up nicely with the minimal line glyphs.
My Critique
The only critique I have about this shot is that most weather apps have support for multiple locations because people often want to know what the weather is like while they are on vacation, and back home, or where their friends and family live. There doesn't seem to be any indication that multiple locations are supported, but this is a minor criticism and could always be added.
Shield Logo
This last shot is a great illustration called Shield Logo by Jeffrey Devey out of Twin Falls, Idaho.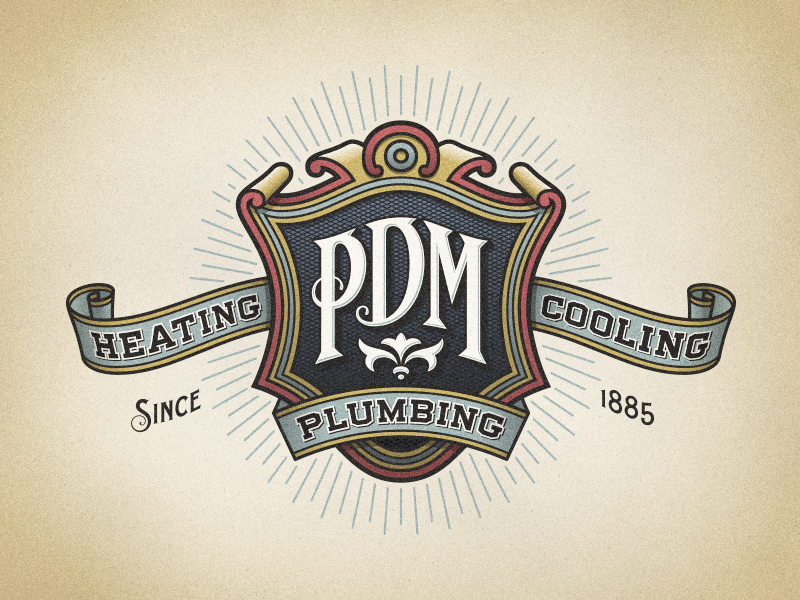 This logo for a heating, plumbing, and cooling company is magnificent! You usually don't think of a utility companies being cool or classy but Jeffrey has managed to create a fresh logo that also is reminiscent of earlier designs from the time of this companies founding.
The fonts used in this piece are very nicely selected, and probably even custom or customized. There are three distinct fonts but they all play nicely together and have a similar vibe so none of them feel out-of-place.
The colors are very nice too, they are all muted pastels that make the logo really dynamic but again at the same time give it an older feeling.
Another thing I like about this piece is how organic and non-computer generated it feels. It feels like it was printed instead of exported from Photoshop or Illustrator. I think the stippling on he gradients contribute the most to this. The gradients don't just shift perfectly from one color to another, but instead are more reminiscent of a printed gradient with the dots packed closer together to achieve the look of the color shifting.
---
Well that'll do it for this week, I hope you enjoyed my picks. Please let me know what you thoughts on these shots and my remarks are in the comments below.
Till next time,
Dave