Howdy! I'm pretty stoked, I just got back from the second Orange County California Dribbble Meet Up! It was a great event with some awesome designers. If there is a Dribbble meet up in your area I highly recommend going and spending some time with your fellow designers. If there isn't one near you why not start one? :)
I'm also glad that this Dribbble meet up was last night to get my head in the game for this post instead of playing Letterpress all night. But enough word jumbling, let's get this party started!
Animated Music Discovery UI Prototype
First up is a shot from a designer I've admired for a long time,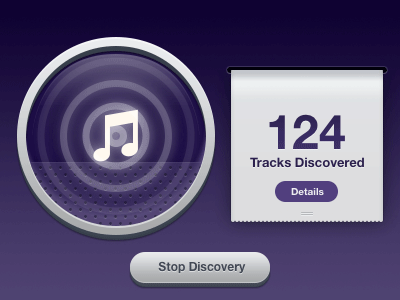 What I loved
I love purple and I don't think it's used enough in design today. This seems like a fun take on a discovery app that has some really nice state changes to make it clear what's happening. I have no idea what this app is intended to do for your music but I think the UI is very clear that tracks are being searched for and discovered, how many have been discovered and where I could go to find more information.
I like the 3D styling of the button and ring. Also the receipt style rollout is a nice touch. I'm glad this is an animated gif to really get a sense of the interactions because I doubt that a static image would have told the same story.
My Critique
I think the musical note icon is a bit small in the large circle. I think it could be expanded to be more bold and look better when the ripples aren't animating outward.
The only other critique I have is that the done button should have a more apparent state change. It took me a while to realize that the "Start" button changes to "Stop" while music is being scanned. Perhaps if it changed color or depressed too. There is so much going on that this subtle text change gets lost.
I would also have loved to see this shot in retina :)
Packed Bike & Packed Hike
Next we have a great illustration from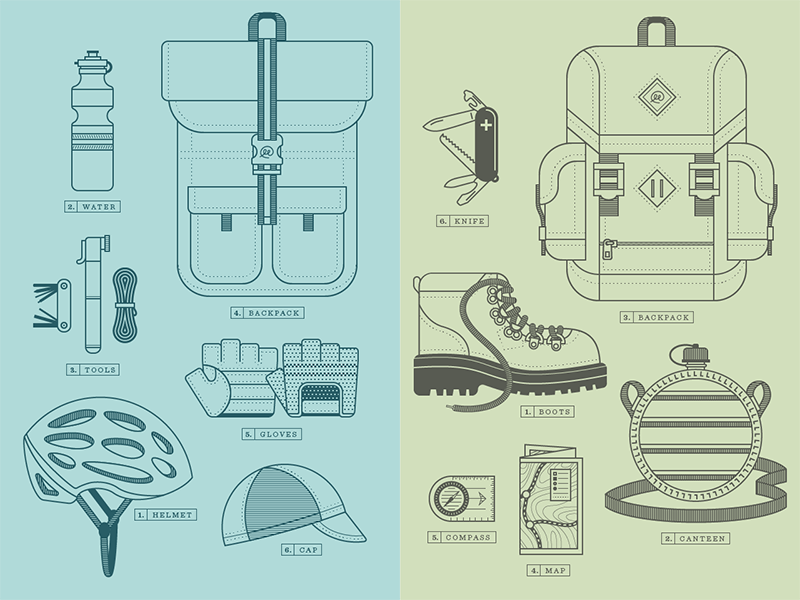 What I loved
This shot is so clean, all the line work is meticulously placed and I love all the variations of line styles used. There are thick bold lines, skinny lines, dashed lines for stitching, and lines that form patterns like in the mesh bike gloves and cap.
This piece has a great nature survivals pamphlet vibe to it. I think Ryan really nailed the styling and feel. It has a great nostalgia element to it, classic yet clean and modern.
This shot is actually of biking an hiking wallpaper for your iPhone, so if you are into any of those activities you might want to check it out for your phone. Or if you love great illustration :)
The Penguin – Batman Returns
Next up is another illustration by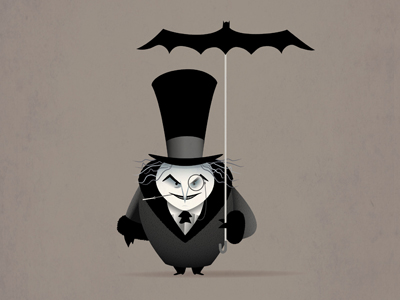 What I loved
Tim Burtons character designs for "Batman Returns" are among some of my favorite movie costumes and this includes the penguin. This shot is a great take on this iconic villain. This shot really captures the essence of this little guy and of Tim Burton. I jogged my memory for this review with some YouTube clips from the movie and it's clear that Jerrod has really tried to stay true to the character while giving him his own spin. The little neck tie for instance is a small detail but once I saw it on Danny DeVito as the Penguin I thought "wow Jerrod really did his homework."
I love the simple shading on all the parts but when combined they create a complex and intriguing shape. This character is immediately recognizable. The bat umbrella is a great touch and the oversized top hat gives it a great Tim Burton vibe. This piece is almost a mashup of "Batman Returns" and "Nightmare Before Christmas", a perfect combination in my opinion.
I hope that Catwoman is next :)
You Owe me home v2
Last up is a great shot of an iPhone app by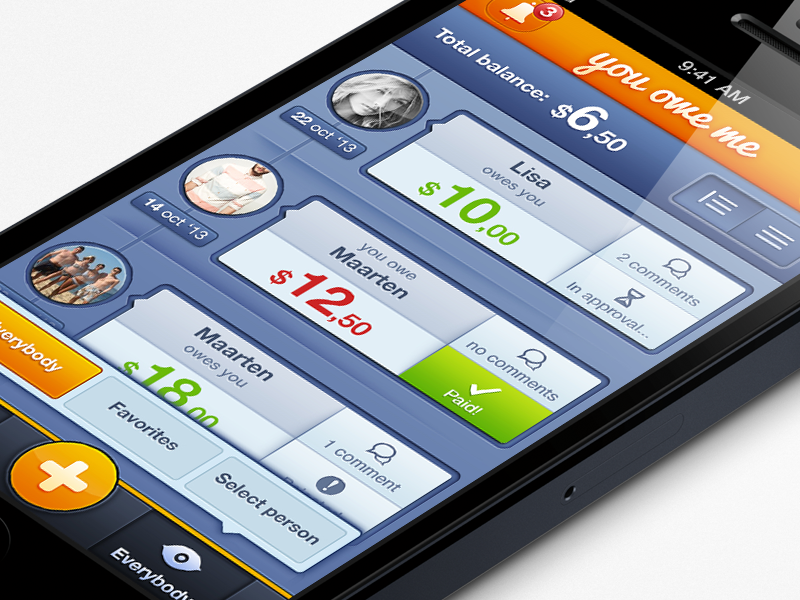 What I loved
This shot features a very colorful user interface not often seen on the iPhone. There is a lot of information displayed in this screen but the color and style selections help differentiate it and separate the content.
I think the use of shadows and shading is really done nicely and tastefully in this screen. I like how shadow is used to cut out the main block of information in the table view of who owes me, or who I owe money too. The line behind the circle avatars is nice too, connecting each entry gives it a nice timeline feel, the dates help with this as well.
I particularly like the yellow strip of color just above the tab bar, this is a really nice color accent that helps separate the different components of this complex interface.
Be sure to check out the full screen attachment to see this shot in all it's retina glory!
My Critique
I think the hour-glass icon is a little dated now and reminiscent of Windows so it feels awkward on iOS, I think a little clock would be more appropriate.
Also I don't think that the eye toolbar icon works too well. At first I thought this was supposed to represent everyone. But then thought about it more and I think what is happening is this is how you filter the content you are "looking at", so the eye kinda works. However I still think it's a little to confusing. I think it might be better to change both the text and the icon when a section is selected.
---
Well there you have it, another Postgame in the can! I hope you enjoyed these shots and my takes on them. Join me next time, but until then keep posting.
Dave